Blog
Tuesday, 14 August 2018 00:00
Foot ulcers may develop as a result of poorly managed diabetes. The skin will typically disintegrate, and the layers underneath will become exposed. Common areas on the foot where this condition may develop include the balls of the feet and under the big toe. In patients with severe foot ulcers, the bones of the feet may often become affected and may generally produce pain and discomfort. Research has shown the importance in keeping as much weight as possible off of your feet; this reportedly prevents further infections from developing. Wearing shoe inserts or diabetic shoes may be beneficial in providing additional protection the feet may need for proper healing. If you are afflicted with a foot ulcer, please consult with a podiatrist for information on correct treatment remedies.
Wound care is an important part in dealing with diabetes. If you have diabetes and a foot wound or would like more information about wound care for diabetics, consult with Dr. Scott Shrem from Garden State Foot & Ankle Center. Our doctor will assess your condition and provide you with quality foot and ankle treatment.
What is Wound Care?
Wound care is the practice of taking proper care of a wound. This can range from the smallest to the largest of wounds. While everyone can benefit from proper wound care, it is much more important for diabetics. Diabetics often suffer from poor blood circulation which causes wounds to heal much slower than they would in a nondiabetic.
What is the Importance of Wound Care?
While it may not seem apparent with small ulcers on the foot, for diabetics, any size ulcer can become infected. Diabetics often also suffer from neuropathy, or nerve loss. This means they might not even feel when they have an ulcer on their foot. If the wound becomes severely infected, amputation may be necessary. Therefore, it is of the upmost importance to properly care for any and all foot wounds.
How to Care for Wounds
The best way to care for foot wounds is to prevent them. For diabetics, this means daily inspections of the feet for any signs of abnormalities or ulcers. It is also recommended to see a podiatrist several times a year for a foot inspection. If you do have an ulcer, run the wound under water to clear dirt from the wound; then apply antibiotic ointment to the wound and cover with a bandage. Bandages should be changed daily and keeping pressure off the wound is smart. It is advised to see a podiatrist, who can keep an eye on it.
If you have any questions, please feel free to contact our office located in Hazlet, NJ. We offer the newest diagnostic and treatment technologies for all your foot care needs.
Read more about Wound Care
Monday, 06 August 2018 00:00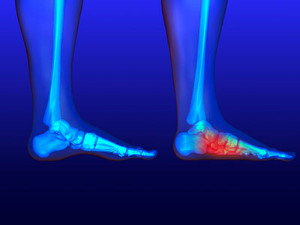 The middle part of the foot typically consists of a curved structure known as the arch. For patients who have flat feet, the arch is absent and the foot lies completely flat on the ground. In babies, the arches are not always visible and will become more apparent as the child ages. Certain people may experience pain in the feet and ankles as a result of having flat feet. Additionally, shoes may wear out faster than the average person, because of the inward rolling that may occur. The bones and muscles in the feet may become weaker as well, which may affect the overall health of the body. Research has shown there may be several causes of fallen arches, including rheumatoid arthritis, obesity, or muscle and nerve conditions such as cerebral palsy. Moderate relief may be found in wearing shoes that fit well and offer adequate support, in addition to performing mild stretching techniques that may aid in strengthening the muscles and surrounding ligaments and tendons. It's strongly advised to consult with a podiatrist if you are afflicted with flat feet and would like additional information about treatment options.
Flatfoot is a condition many people suffer from. If you have flat feet, contact Dr. Scott Shrem from Garden State Foot & Ankle Center. Our doctor will treat your foot and ankle needs.
What are Flat Feet?
Flatfoot is a condition in which the arch of the foot is depressed and the sole of the foot is almost completely in contact with the ground. About 20-30% of the population generally has flat feet because their arches never formed during growth.
Conditions & Problems:
Having flat feet makes it difficult to run or walk because of the stress placed on the ankles.
Alignment – The general alignment of your legs can be disrupted, because the ankles move inward which can cause major discomfort.
Knees – If you have complications with your knees, flat feet can be a contributor to arthritis in that area.
Symptoms:
Pain around the heel or arch area
Trouble standing on the tip toe
Swelling around the inside of the ankle
Flat look to one or both feet
Having your shoes feel uneven when worn
Treatment:
If you are experiencing pain and stress on the foot you may weaken the posterior tibial tendon, which runs around the inside of the ankle.
If you have any questions please feel free to contact our office located in Hazlet, NJ. We offer the newest diagnostic and treatment technologies for all your foot and ankle needs.
Read more about Flat Feet